TalfourdJones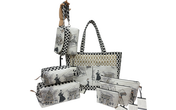 I was originally born in London and emigrated to the United States with my husband in 1995. After packing up our new puppy, (we had only had her a week), and few meager sewing supplies, some fabric and of course the sewing machine, I made the plane ride to a country that previously, I had only visited.
I started Talfourd Jones after sewing and designing clothes for myself. Over time, the client base grew as business associates and friends saw what I was wearing and wanted clothing made for them. Some of my designs have been worn to functions at the White House and I specialize in both formal and casual wear.
The Talfourd Jones Collection developed when I was looking to purchase a knitting bag, but none of the bags were exactly what I was looking for, and from there it snowballed into making knitting accessories, handbags, makeup bags and other personal accessories.
The fun of the Talfourd Jones Collection, is the journey of putting fabrics, designs & colours together, primarily using home decorating fabrics, upholstery fabrics and quilting fabrics for the linings. The findings are of excellent quality purchased in NY & CA and the fabrics are generally limited editions so my clients receive new and exciting fabrics on each item. Significant effort is put into choosing the correct fabrics to coordinate with the correct lining, the style and material in the handles, to the colour of the bags' findings, nickel, brass or antique gold, to which exterior button & bead will work perfectly for that specific item & that particular fabric colour story. All the sewing and designing is done in house, by me, with bags taking between 5 to 15 hours depending on the style and the accessories taking between 1-2 hours. I only purchase 1 yard pieces of fabric, so when they are finished I try not to purchase them again, this gives you, the customer, the feeling that what you are purchasing a OOAK piece.
The bags are named after women who have made an impact in my life, ranging from my mother, my stepmother & my mother-in-law, to my sister & step sister, to my best friends and finally to my dogs.
Thank you very much for taking the time to look at the Talfourd Jones Collection.